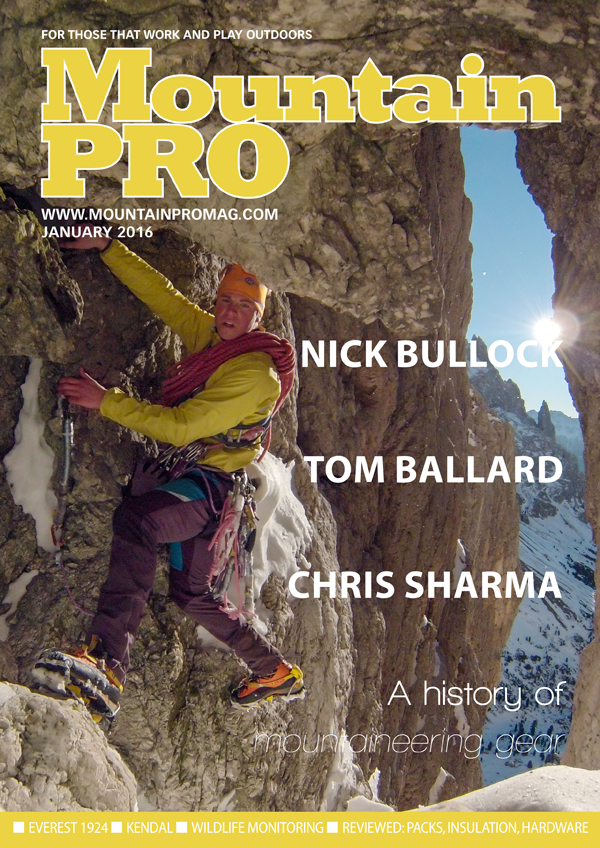 Click the cover on the left to launch the latest issue of Mountain Pro. It's completely iPad, iPhone, Android and tablet-friendly. This issue includes:
Nick Bullock
Tom Ballard
A history of mountaineering gear
Interview: Chris Sharma
Everest 1924
Tested: Packs, Insulation, Hardware
Want to read the full PDF version? Click here.
Share it with your friends:
Enter your details below and we'll notify you every time an issue is published. You can unsubscribe at any time.
Why sign up?
It's completely free to read (and share) – we'll never charge you for any amounts
It's iPad, iPhone, Android and Tablet-friendly so you can read it when and how you want it
It's full of interactive features, including embedded videos and sound clips
We'll email you every time a new issue is published, but don't worry you can unsubscribe at any time



Ueli returns to London to share his Magic Moments of 2015. Ueli Steck has witnessed some magic moments this year, including his astounding 82-peak summit project in the Alps this summer. Using only human power, he conquered this incredible challenge by climbing, biking and paragliding between each mountain peak, tackling an incredible 100,000m ascent in just 62 days. Ueli said that other than climbing, his favourite mode of transportation was road cycling, "It was so much! Especially going through some iconic roads on the Tour de France." On January 22nd at the London Geographical Society, Mountain Hardwear and Snow+Rock are hosting a night with Ueli Steck, where he will be sharing his latest line of feats, including his reclaimed Eiger record, in only 2 hours, 22 minutes. To help prepare him for his adventure, the Mountain Hardwear product team worked with Ueli for 18 months to create a kit to take him the distance. Meticulously designed, the kit includes baselayers, insulation, shells, and a backpack. This kit will be available to consumers in Spring 2016 exclusively from Snow+Rock stores in London Covent Garden and Leeds. Tickets are on sale now for Ueli's lecture through www.worldexpeditions.co.uk. World Expeditions will be present with its brand new 2016 'Classics' brochure, which features a compilation of its most extraordinary adventures around the globe, including a series of mountaineering... read more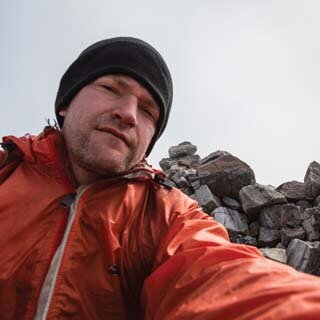 David Lintern
Editor
A member of the Outdoor Writers and Photographers Guild and an Edinburgh Mountain Film Festival Photography Award winner, David is an expert outdoor photographer and writer who is passionate about all things outdoors. His passion and experience brings Mountain Pro to life.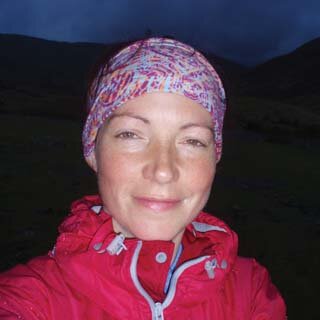 Lucy Wallace
Gear Editor
Gear editor, Lucy Wallace, is based on the Isle of Arran. Lucy is an experienced winter mountain leader and member of the Mountain Leader Training Association. A dedicated outdoor blogger and owner of arranwildwalks.co.uk, Lucy has the expertise and location to test outdoor kit to its limits.
Tom Hutton
Gear Editor
Tom is an experienced outdoor editor with some of the UK's biggest outdoor titles. He's equally at home walking, climbing, skiing, or cycling, and his passion for the outdoors is matched only by his love of nature in general. Tom is the current chairman of BMC Wales/Cymru, sits on the National Council for the BMC and is a member of the Outdoor Writers Guild.
Mountain Pro magazine

Target Publishing
The Old Dairy Hudsons Farm
Fieldgate Lane
Ugley Green
CM22 6HJ
Tel. 01279 810080
Fax. 01279 816496
Web. mountainpromag.com
Twitter:
Administration/Distribution
Yolanda Clouting– | 01279 810080
Advertising Sales
Michael Wolstenholme – | 01279 816300
Chris Kemp – | 01279 816300
Editorial David Lintern – | 01279 816300
Mountain Pro magazine is published by Target Publishing Ltd. Target Publishing is the leading publisher and conference organiser serving the natural, complementary health, leisure, education, sport and eco markets.
Target Publishing's ethos has remained the same since its formation in July 2000 – to provide high quality publications, shows and events for the markets it serves. Education and innovation are the cornerstones of the company's approach.
The Target Publishing team has a wealth of experience and knowledge and their dynamic approach to publishing and conferences brings fresh ideas to the natural product, CAM, eco, organic, sport, fine food and outdoor pursuits sectors.
If you would like to request information on any of Target Publishing's products please call 01279 816300 or click here.